VallartaJoy Luxury Vacation Rentals SM

We are the premier vacation rental and property management resource for Nuevo/Puerto Vallarta! Let us help you plan a carefree vacation enjoying over 60 exclusive privately owned luxury beachfront, oceanview, marina-view fully equipped gated condos and villas located along Mexico's western coast – commonly called Mexico's Riviera – along the Bay of Banderas. We feature properties at Paradise Village (Nuevo Vallarta), Punta Esmeralda (Bucerias), Portofino (Puerto Vallarta) and other world class resorts. Vacation with us!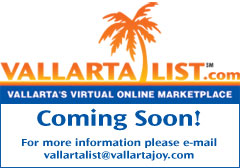 Return to previous page
Testimonials
Testimonials and Affiliations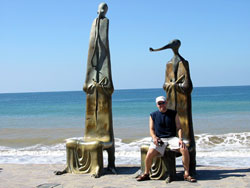 Excellent customer service is what distinguishes VallartaJoySM Rentals from any other agency or person renting vacation homes in our locations. We own property in the resort areas where we do business, so we are very well informed and connected in a personal way to these communities and the administration and staff. We appreciate the trust that our guests put in us to help them plan a fun and memorable vacation experience. We value our relationships and the feedback that we get.

Not only are we a member of the local chambers of commerce where our resorts are located, but we are also a verified PayPal TM vendor. We have developed a hard earned reputation for honesty and integrity, high ethical standards and professionalism in dealing with all our stakeholders. The comments below attest to our reputation and results.

For those of you who may be new to VallartaJoySM Rentals as the premier vacation rental resource, we would like to share some comments from previous guests.
---

"Hope you are well. We wanted to thank you again for the opportunity to rent the condo. Randy and I have traveled to over forty countries together, and we can honestly say, that your condo was one of the best places that we have stayed. Randy, Rex and I had an absolutely wonderful time. It was fantastic. In fact, little Rex perfected his walking skills there, and greatly enjoyed eating his meals on the terrace. You were absolutely right about the tamales at the Paradise Village market. We must have eaten a dozen…….Hopefully we will be able to return…"

- Julie, Randy and Rex, Scottsdale, AZ
---

""Thanks so much for all your help leading up to our visit. It was excellent. I must admit that I was a little wary of the internet, but the way you treated us gave me confidence. We were very impressed by your home. Everything about it was first class and top notch. My kids loved everything about it. The beach is right out the pool gate. The water was great. The weather was great. You had so many extra, games, TVs, DVDs, movie selections, that we were never bored. We consider ourselves part of the family now and want to come back soon. I have one suggestion, you should leave pictures of yourselves in the condo so we can know our 'new family'. The staff was great too! See you again soon. Thank you very much."

"My son told me you called to ask how our stay was, but I was at the beach all day, every day and I missed it. I just wanted to wish you a Happy New Year and tell you how thrilled I was to have spent the holiday at your condo in Nuevo Vallarta with my kids. The service you provided was excellent."

- Ron D, Connecticut
---

"Well, our two weeks seemed to evaporate at an incredible rate and we are now safely back home. Joane and I would like to sincerely thank you both for sharing your home with us. Joy By the Sea was everything that we had imagined and much, much more. The accommodations and the staff could not have been better. Your attention to detail is truly amazing and we are very appreciative of all of the little extras that you do in order to ensure that your guests are comfortable. Many thanks to you for all of your assistance in making our vacation one that we will always remember."

- M/M Lucas, Ontario
---

"We rate the website info, condo cleanliness, furnishings, linens, appliances, onsite management, security, check-in, location, Welcome Guide and Overall Experience EXCELLENT! You went totally above and beyond our expectations—a great holiday!"

- M/M Waller, Auckland, New Zealand
---

"Thanks again for the opportunity to stay in your place at Playa Vista. We just got back Thursday night. We wanted to let you know we loved your place very much. We definitely look at staying again and we will pass your name around to others. Thanks for the call as well………….The kids said that the pullout and chase were the most comfortable they slept on for the whole 30 day holiday."

- Jim, Tina, Marissa, and Amanda, British Columbia
---

"Joy By The Sea is truly beautiful! Being by the ocean is relaxing and enjoyable, especially being able to watch the sun set every night. There are so many activities to enjoy…the condo itself is beautifully furnished and well cared for. The surrounding grounds are filled with lots of colorful lowers and plants. This was a very special vacation for me, and one that I will look forward to again."

- Wilma McKinney, Michigan
---

"What a superb vacation condo. I thoroughly enjoyed my stay in this beautifully appointed, very conveniently located home. To wake up and see the beach right outside my door with a pool nearby, I couldnot have asked for more. Did I mention golf? El Tigre was a wonderful complement to my relaxation plan! …I had a splendid time in your home. Thank you!"

- Dr. Treadwell
---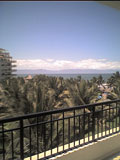 "Well…I finally decided to write to tell you how much I adore your beachfront home in Nuevo Vallarta! You should know by now because this is my 3rd rental this year! I love everything about this resort, the home, the people, the beach, the food….just everything! I still can't believe how fresh the seafood is and how affordable---full lobster dinner for $15 dollars! You prepared me so well for what to expect on my first visit that I was completely at home and relaxed. I can't believe how many activities there are to do here. The homes are so well maintained, and spotless. The cleaning ladies keep folding the towels into different animals each day and leaving flowers. Can I just move here? Thanks again."

- Atty. John M.
---

"Seeing photos of our vacation brings back wonderful memories of our fabulous 5 days in your condo. I especially loved having my own private pool and beach which I used almost every day and being in close proximity to the hotel amenities. We played tennis and used the spa there. We also enjoyed brunch at El Tigre golf course on our last day there and met some very nice couples from North Carolina there for 2 weeks. I can't wait to visit again. When I get around to developing my disposable cameras, I'll share some of our photos with you. Thanks for sharing your home away from home with my family and I."

Charlene U., California
---

Joy, had a great time, enjoyed your home more than I can tell you! You were right about the food at the Fajita Republic, the food was as good as the people fun. Already starting to plan for the next vacation, everyone is sick of listening to me rave about the fantastic time we had, so thanks again, and you will be hearing from me. Until the next,

John M. (March 2007)
---