VallartaJoy Luxury Vacation Rentals SM

We are the premier vacation rental and property management resource for Nuevo/Puerto Vallarta! Let us help you plan a carefree vacation enjoying over 60 exclusive privately owned luxury beachfront, oceanview, marina-view fully equipped gated condos and villas located along Mexico's western coast – commonly called Mexico's Riviera – along the Bay of Banderas. We feature properties at Paradise Village (Nuevo Vallarta), Punta Esmeralda (Bucerias), Portofino (Puerto Vallarta) and other world class resorts. Vacation with us!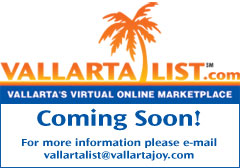 Return to previous page
Specials
Periodically, VallartaJoy SM features special discounts on some of its condos or villas. Check back frequently for the latest values.
Enjoy up to 25% savings on the fine home(s) featured in our "Specials" for rentals within the next 15 days, subject to availability:
Joy's Oceanfront Paradise

Description: NUEVO VALLARTA CONDOMINIUM PLAYA VISTA—1BR/2BA BEACHFRONT FULL OCEAN VIEW PARADISE VILLAGE RESORT
View: Full ocean – direct western/sunset views
Bedrooms: 1
Bathrooms: 2
Rental Price: $1075 wk - $1675 wk

DiMeo's Beach Paradise

Description: NUEVO VALLARTA - CONDOMINIUM PLAYA ROYALE TOWER 2 - 2BR/2BA, BEACHFRONT, SIDE OCEAN VIEW - PARADISE VILLAGE RESORT
View: Ocean view
Bedrooms: 2
Bathrooms: 2
Rental Price: $1075 wk - $2075 wk

Surprise Selection 'Suite' Specials ®©

Would you like to visit one of our luxury homes at a special savings? Do you enjoy a bit of mystery……calculated mystery? Would you enjoy staying at one of our fine homes without know precisely which specific home in our gated destination resorts (until your reservation is confirmed)? If you would like to step out on the "surprise side", then this special is for you.
Our "Surprise Selection 'Suite' Specials" ®© ("SSSS") allows you to do so and enjoy one of our fine condos or villas at up to 40% savings off the usual rates.

Click here to learn more about "Surprise Selection 'Suite' Specials" ®©